Fresh Vegetable-Nut Dinner
FRESH VEGETABLE-NUT DINNER
Ingredients: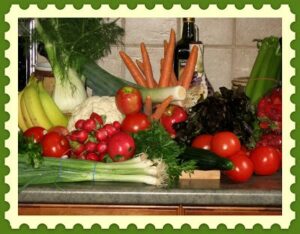 1 garlic clove, crushed
½ teasp minced fresh ginger
½ teasp mustard seeds
2 tblsp oil
1teasp curry powder
1 cup sliced red onion
2 small potatoes, unpeeled and thinly sliced
2 medium carrots, sliced
¾ cup orange juice
1 sweet red pepper, slivered
½ cup cashew nuts
¼ teasp cayenne pepper
1 cup hot cooked brown rice
Saute garlic, and mustard seeds in hot oil in a large skillet until seeds "pop".  About 3-5 minutes.  Stir in curry, dill, onion, potatoes and carrots.  Cook over low heat for 3 minutes, stirring constantly.  Add orange juice.  Cover and simmer 12-15 minutes, until potatoes are tender.  Stir in red pepper, nuts and cayenne pepper.  Cover and simmer about 5 minutes or until peppers are tender.  Serve hot
over rice.