A DELICIOUS VEGE BAKE
This bake is delicious with fish, or if you don't want to have it with salmon you can add tofu or tempeh to the veggies while they are cooking.
Ingredients: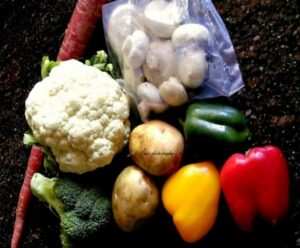 1 onion quartered
¼ cup (60ml) water
1 cup (250ml) yam
1 cup (250ml) carrot
1 cup (250ml) turnip
1 cup (250ml) butternut pumpkin
1 cup (250ml) beet
300 grams firm or extra-firm tofu (optional)
¼ – ½ cup (60-120 ml) olive oil
Spices to taste (rosemary, oregano, basil for example)
½ tsp (5-10 ml) sea salt.
Method:
Heat oven to 400 F (200 C).  Wash and cut all vegetables into 1 inch cubes.  Using large baking dish with lid, add onions and water, and then the vegetables that take longest to cook, beets, turnips and carrot.  Add the tofu is using.  Then add the pumpkin and yam.  Drizzle with olive oil, add spices and mix lightly.
Bake for 45-50 minutes and serve with grains, salad or soup.  Serves 4.